School Uniform
School uniform should be worn by all pupils on every day that they are in school. At Kingsway Primary School, we have chosen a smart navy uniform with a school tie. The school tie is elasticated for our reception pupils so it is very easy to put on.
Standard Uniform
Navy blue school logo v neck sweatshirt or school logo cardigan (only logo ones please).
White logo polo shirt, non-logo white polo shirt or white school shirt/blouse, and School tie.
Black trousers, skirt, or pinafore.
Black or navy blue Velcro fastening shoes (no trainers).
A pair of wellies (to be kept in school).
Summer option
As above or blue check gingham dress or black shorts/skirt.
PE Kit
Navy blue logo PE shirt and Royal blue shorts.
Daps or trainers according to season and activity.
Other
School Book Bag (essential for all pupils).
We do not sell uniform direct in school, but it can be purchased from the following places:
Monkhouse Schoolwear Specialist
Located at 99 Northgate Street, Gloucester, they host a variety of school uniforms and a typical Kingsway Primary School uniform will cost about £50 in total.
My Clothing Uniform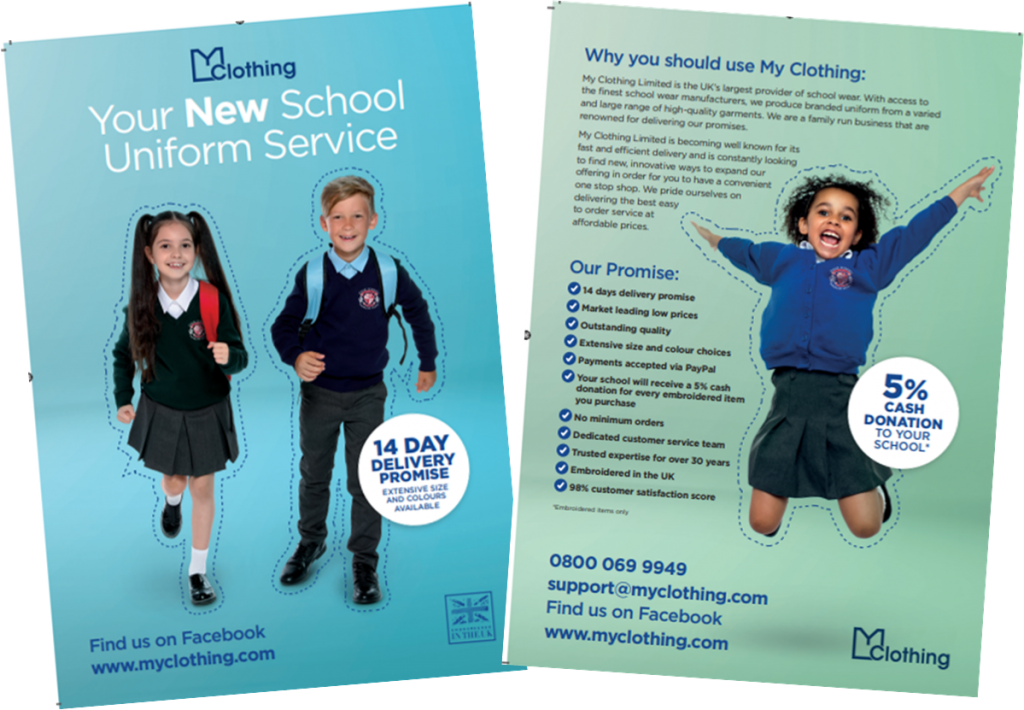 My Clothing Limited are a family run business that are renowned for delivering its promises. With over 30 years of trusted expertise, we're proud to support your school by delivering the best easy to order service and a 5% cash donation to your school for every embroidered item you purchase. All items are purchased online at https://myclothing.com/kingsway-primary-school/8326.school